Resorts and Villas are the places to refresh your mood on the weekends and relax for a while before hitting the cycle again. Luxury hotel rooms, delicious breakfast, relaxing pool, and fantastic attraction places nearby, to meet your requirement and desire, we'll help you to find the best resort/hotel for your holidays. 
Not to mention the incredible west coast visiting places like the Gandhi Ashram, Kankaria Lake, Ranki Vav, Gir National Park, Statue of Unity, and much more. Also, some exciting things to do and places to visit like Bus Tours, Cultural Tours, Ancient Ruins, Historical tours, and rail tours.
1. Boulevard 9
Nested at a comfortable distance of less than an hour's drive from Ahmedabad and Vadodara. Boulevard9 Luxury Resort & Spa presents a whole new world of five-star comfort and understated luxury. Spread over an area of 10 acres with beautifully landscaped spaces fit to celebrate life's special occasions, the resort is an ideal destination for business, leisure, weddings, and social events, with luxurious rooms and chalets, large convention halls, a board room, and professionally landscaped gardens.
2. Jalashray Resort
Luxury and decadence welcome you to the beyond. Jalashray Resort is a fine retreat at Nadiad, near Ahmedabad. It is one of the best Resorts around Nadiad. The stay offers comfort, tranquility, and luxury, all at the same time. The comfortable rooms, innumerable facilities, and amenities provided will make your stay more comfortable and relaxing. This place is ideal for leisure holidays, honeymoons, wedding ceremonies, and conferences. The accommodation comprises doubles, Super deluxe, and suites. All rooms have been infused with contemporary elegance and international designs. Most rooms offer a fabulous view.
3. Lilodhyan Club & Resort:
Located 45km far from Ahmedabad, Lilodhyan is the most luxurious resort in Gujarat, including 3 gorgeous types of resort villas – Earth, Wind, and Jungle. Situated in heart of nature, away from all the crowd and traffic noise. Breath-taking luxury that you never want to leave, friendly service for all the guests. Stunning pools for you and your family & friends, including a cafe and bar. You can stay in any of the types of villas, Jungle villa is the best creation of the Lilodhyan group.
Party, Destination wedding, Weekend stay, Vacation stays, or Business stay, Lilodhyan gives the best services for any kind of your stay. Santorini Experience in the greek style Wind Villa, or Bali vibes in Earth Villa, a remarkable stay for the rest of your life.
4. Madhuban Resort & Spa
Provided with ethereal nature and a lavish ambiance, Madhubhan resort is the perfect choice for your exotic vacation and events. Designed on 25 acres of land in the greenery of Charotar near Anand, Gujarat, India, this Award-winning Resort & spa, and wellness destination is at par with international standards. The place has a fusion of a classy traditional and sumptuous contemporary taste. The splendid swimming pool, being Gujarat's longest, lists the major hashtag in your experience here. The picturesque resort promises you and your family opulent leisure, entertainment, and rejuvenation.
5. Neonz Resort & Spa
Neonz, an exclusive 5-star lifestyle resort, the club brings together the world's most exciting and contemporary concepts of luxury, freedom, and rejuvenation. Neonz Resort And Club, spread across 15 sprawling acres of land in Charotar, exists to redefine the concept of luxury and bring together under one roof, a world-class holiday hangout, party hot-spot, business hub, foodie's paradise, and a holistic health & wellness center!
6. Palm Greens Club & Resort
Palm Greens Club & Resort's Hospitality level with courteous and humble staff distinguishes Palm Greens Club & Resort from other resorts. Palm Greens Club & Resort ensures to make your stay the most memorable one. Starting from the welcome desk to your room service, you will enjoy the un-diverted attention and courtesy.
7. Nilkanth Resort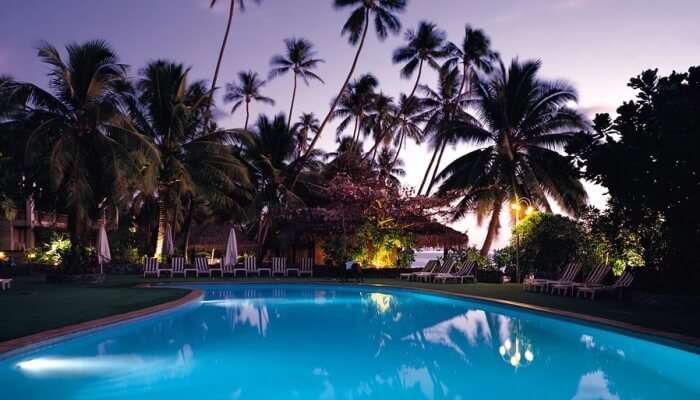 What makes a function like a wedding ceremony or a corporate event truly special is the services that are offered. Nilkanth Resort provides a wide range of services to take care of your needs. Guests can enjoy their event on the lush green lawn or at the AC banquet hall. Nilkanth Resort has experienced staff that is always ready for your help with quick service. Nilkanth Resort has its catering and decoration team with whom you can discuss your requirements to make a successful event.
8. Piyush Palace

Grandeur nestled in lush greenery greets you at Piyush Palace, an exquisite retreat styled in Indian palatial architecture. Built over an enormous approximate 7 acres, the resort is facilitated with warmth and luxury which reverberate in every amenity, space, and corridor of the majestic edifice; thus leaving you pampered like royalty.
9. Grand Nakshatra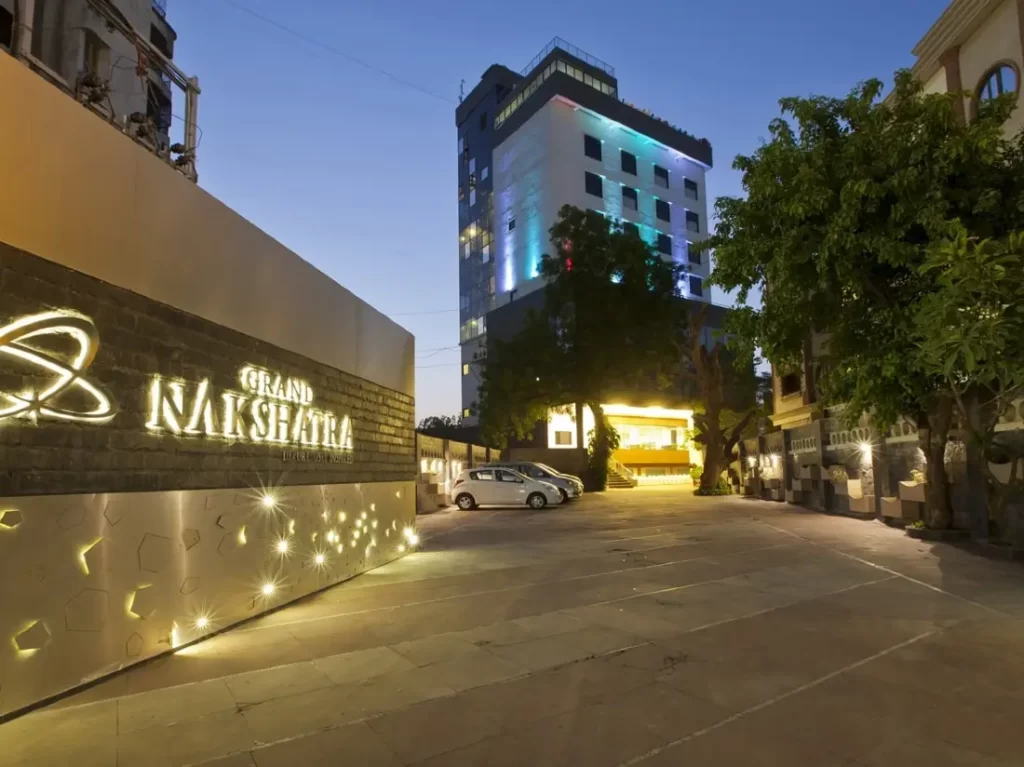 To provide world-class excellence services with a local touch to surpass customer expectations by matching the standards of the hospitality industry. Nakshatra is located near Anand and gives the best facility to its guests. Comfortable food menu for reaching customers' favorite dishes. Make your stay comfortable with Nakshatra Hotel and Resort.
10. Neejanand- Luxurious Resort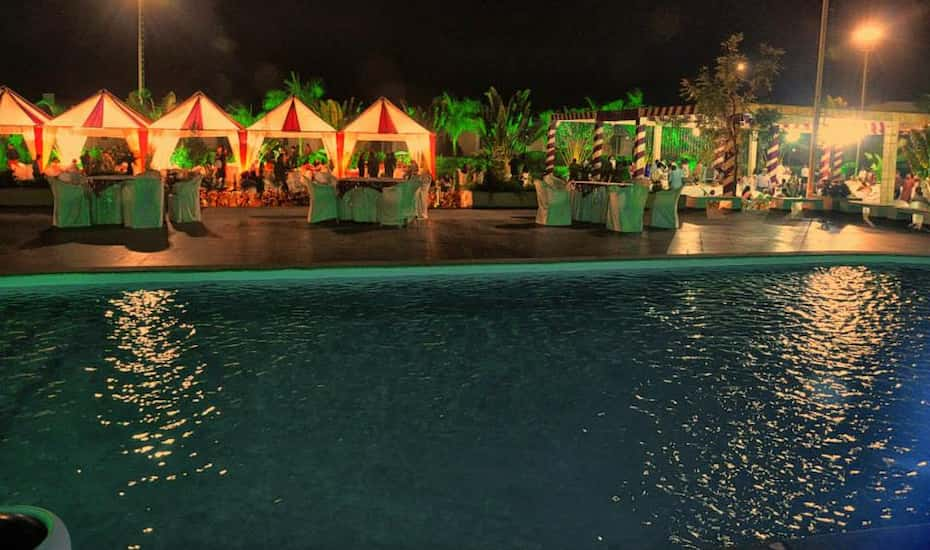 Neejanand is ideal for a family vacation, where everyone from children to adults can enjoy all the facilities at the resort for a day or a week. Even if you are coming from abroad for a month, you can stay at Neejanand, which is your home away from home. Highly accessible very near the highway, Neejanand is in Anand, and being just over an hour away from both Vadodara and Ahmedabad, it is very accessible to food, family, and shopping.